Panama Immigration Lawyer
Attorney at Law Julissa Ortega Hernandez
Immigration, Real Estate and Commercial Lawyer
Panama Immigration Lawyer Ms. Julissa Ortega is a specialist in immigration, commercial and real estate law and is available to provide legal assistance in Panama to anyone who needs it, her clients rate her as one of the top 5 immigration lawyers in Panama.
She is a specialist in Panama immigration law and can help foreigners who want to travel to Panama and obtain Tourist Visas, Short Stay Visas, Temporary Resident Visa, Permanent Resident Visa, Retired or Pensioner Visa, Retired Annuitant Visa, Investor Visa and multiple visas in Panama.
Get 1 free consultation
We will give you a 45 minutes meeting with a specialist on Immigration to Panama completely free if you schedule it right now.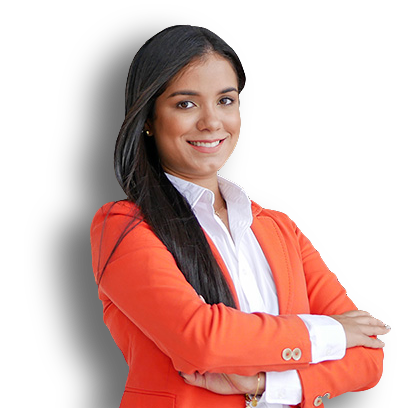 Contact the lawyer with an email
INTERVIEW TO THE IMMIGRATION LAWYER BY NTN24
Career as an Immigration Lawyer in Panama
Thanks to her specialization as an immigration lawyer many foreigners have obtained their permanent residence permit or permanent resident card in Panama and permits related to labor migration.
Her method involves meeting the client personally if possible in a face to face interview.
Immigration Lawyer in Panama Lic. Julissa Ortega Hernandez is one of the most recognized lawyers by the media and the foreign community in Panama within the top 5 immigration lawyers in Panama.
She obtains the necessary data to build a profile that best fits the immigration legislation of the Republic of Panama and thus obtain the VISA of Residence in a definitive way to each of her clients.
EMIGRATION IS NOT EASY FOR ANY FOREIGNER, NO ONE WANTS TO LEAVE THEIR HOMELAND HOWEVER ONCE THE DECISION HAS BEEN MADE YOU MUST HAVE A RELIABLE ADVOCATE TO PROVIDE YOU WITH LEGITIMATE AND FAIR RESULTS.

Attorney at Law JULISSA ORTEGA
The newspaper La Estrella de Panamá asked for your opinion on the bill proposed by members of parliament regarding the immigration reforms that were finally implemented in the country.
LEGAL SERVICES PROVIDED BY THE FIRM
Due to the fact that the list of requirements to obtain any residency permit in Panama is constantly changing, lawyers in Panama who have not specialized in immigration procedures get a lot of rejections of files.
The rejections are due to small details such as misplaced consular stamps, poorly done apostilles, poorly drafted legal documents, among others.
Julissa Ortega is an Immigration Lawyer in Panama and is a specialist in immigration procedures.
She knows in depth the requirements to obtain any type of Residency VISA in Panama.
She identifies the possible causes of rejection of a file and ensures that her clients obtain all documents and evidence, complying with the parameters that Panamanian immigration inspectors audit all the time.
Immigration procedures in Panama are often cumbersome due to the long lines that are formed every day at the National Immigration Service.
TESTIMONIALS FROM CLIENTS WHO DID IMMIGRATION PROCEDURES IN PANAMA
Attorney Julissa Ortega is one among the few immigration lawyers in Panama who personally accompanies her clients during the presentation of their residence permit in Panama.
This to be able to face situations that normally delay an immigration process, so that 99% of the legal procedures to obtain VISAS before the national immigration service with this lawyer are positive.
ALL RESIDENCE VISAS IN PANAMA
Obtaining the Panamanian Cedula for your clients through friendly countries visas, foreign professional visa, macro investor visa, pensioner or retired visa, student visa, visa for Panamanian children, visa for married with national and any other permanent or temporary residence visa is not a problem for Julissa Ortega.
IMMIGRATION PROCEDURES IN PANAMA
She has extensive experience to advise and represent you to obtain your residence permit in Panama before the National Immigration Service, as well as to obtain your work permit before the Ministry of Labor of Panama.
She will be able to advise you on what kind of VISA is best for you to apply for before the National Immigration Service of Panama.
Apply before the Ministry of Government for your naturalization in the Republic of Panama.
Assist all your dependents to obtain a residence permit in Panama and other special services in legal matters.
Revoke any power of attorney from a lawyer who has abandoned your process and continue your proceedings before the national authorities of Panama.
She specializes in legal proceedings before the national immigration service, that is why she is one of the most sought after immigration lawyers Panama.
Experience with Corporations and Commercial Law
We can help you open your business in Panama from day one, since we have extensive experience in opening corporations in Panama, Private Interest Foundations, A and B companies (formerly off shore) in Panama and other countries.
CAN ALSO ADVISE YOU ON:
Opening of bank accounts for your company in Panamanian banks.
Request of payment systems for physical and on-line businesses domiciled in Panama.
Location of commercial premises, offices and buildings
Verification of owners in the systems of the Public Registry of Panama.
Any other legal services that will protect you when making a business decision under the laws of Panama.
DO BUSINESS IN PANAMA AS A FOREIGNER
Many foreigners who come to obtain Panamanian residency do so for commercial purposes.
That is why in most immigration procedures it is necessary for foreigners to incorporate a Panamanian company before starting their immigration regularization.
As a lawyer in Panama, Mrs. Ortega will be able to help you choose the type of company oriented to the business model you wish to start in Panama.
She will also be able to advise you on the registration of trademarks (territorial and foreign) so you can open franchises or simply protect the design, name, logo or patent invention of your property.
During your trajectory as a Panama Immigration Lawyer he has successfully registered numerous companies and trademarks before DIGERPI and the Public Registry of Panama.
We have an express service to register your company in Panama in record time.
CONTRACTS
Prepare an Employment Contract in Panama that benefits you in the time of determined work, define if your talent will be hired for a definite or indefinite time to be able to plan the correct annual workload of your business payroll, you can also represent your company before any authority as a lawyer in Panama.
ABOUT THE LAWYER
Julissa Ortega is a lawyer in Panama and Founder and director of the Panamanian law firm AbogadosPanama.net, she has helped brands, companies and individuals throughout her career since long before formally becoming a lawyer in Panama.
He offered legal services during his work in several reputable law firms in Panama City and it was in 2016 when he decided to take the course of his destiny by opening his own law firm / firm together with his partner businessman Juan Rivers.
In the law firm in Panama chaired by Julissa Ortega, we want to help all persons and / or companies that need to solve any legal situation in commercial and immigration issues in Panama City.
We have helped more than 1000 people in their immigration procedures in Panama, which ratifies us as one of the 5 best immigration lawyers in Panama.
Real Estate Legal Advisory Services
In addition to practicing law in Panama, Ms. Julissa Ortega Hernandez is a licensed real estate broker with the support of the Ministry of Industry and Commerce of Panama, a profession that has allowed me to be deeply involved in the elaboration of contracts of all magnitude in the real estate field. If you need legal advice in your real estate business, I will take care of protecting your interests using all the arsenal of laws that protect you in the Republic of Panama and beyond.
Attorney Julissa Ortega works with a team of associate attorneys who are passionate about achieving a great solution to every challenge you face, and will personally help you find the path that solves your legal problems.